News and Events
Phi Beta Kappa Initiation Ceremony - 2019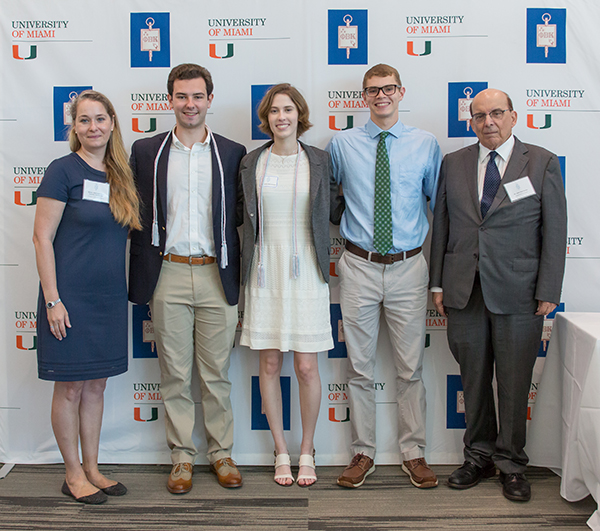 Left to right: Dean Jennifer Ferriss-Hill (Phi Beta Kappa Treasurer and Secretary), Christopher Dorizas, Sarah Ortiz-Monasterio, Matthew Wiefels (Classics minors), and Dr. John Paul Russo (Classics Chair and Professor)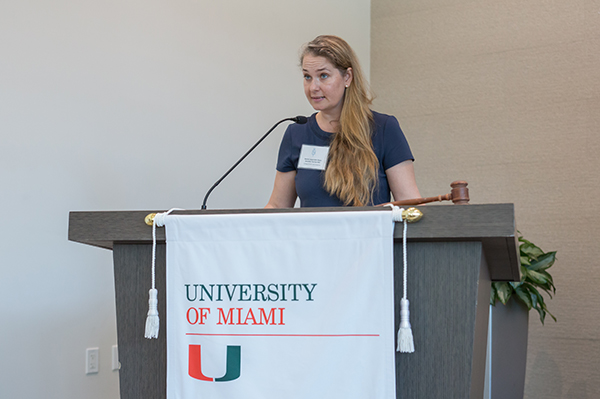 Dean Jennifer Ferriss-Hill, Phi Beta Kappa Treasurer and Secretary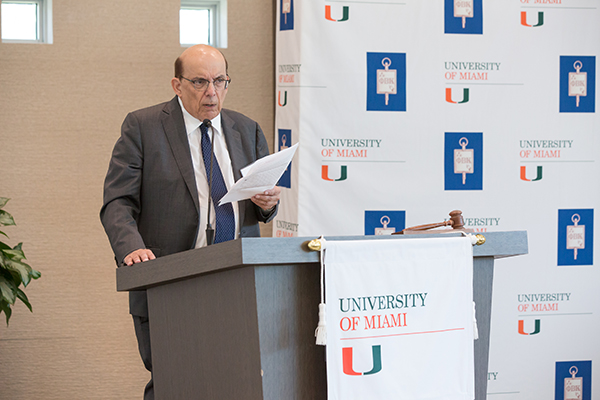 Dr. John Paul Russo, Chair and Professor of Classics
Phi Beta Kappa Initiation Ceremony - 2018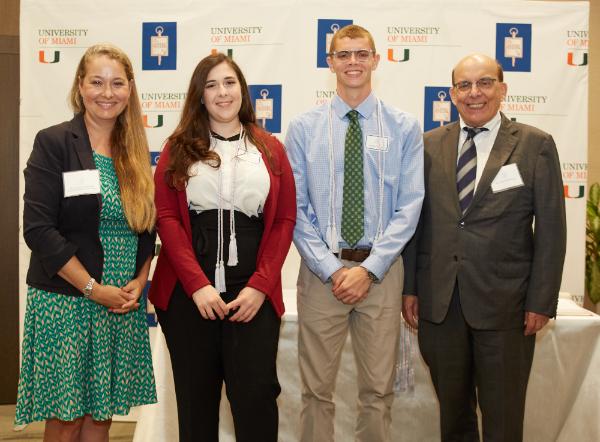 Left to right: Dr. Jennifer Ferris-Hill (Phi Beta Kappa Treasurer and Secretary), Maria Constanza Benvenuti (Classics Major), Matthew Wiefels (Classics Minor), and Dr. John Paul Russo (Classics Chair and Professor)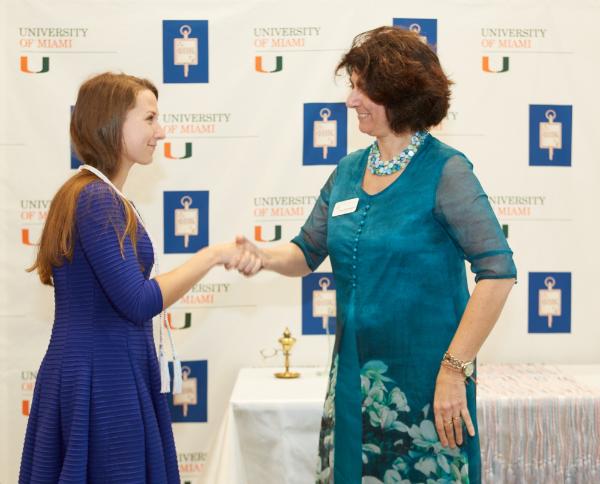 Left to right: Amanda Hillegass (Classics Minor) and Senior Associate Dean Maria Galli Stampino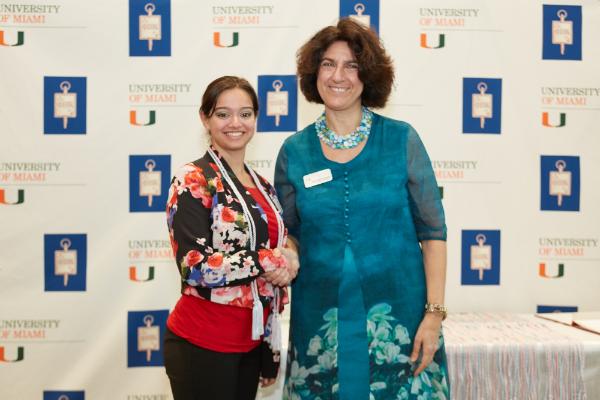 Left to right: Alyssa Cruz (Classics Minor) and Dean Stampino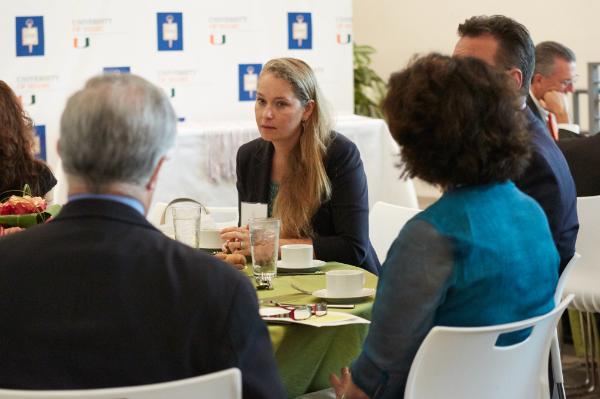 Dr. Jennifer Ferriss-Hill, Phi Beta Kappa Treasurer and Secretary
---


The Department of Classics is delighted to announce that Dr. Jennifer Ferriss-Hill, Associate Professor of Classics at the University of Miami, has been awarded a highly competitive Summer Stipend from the National Endowment for the Humanities to continue work on her second book during the summer of 2018. Horace's Art of Poetry and the Art of Living approaches Horace's Ars Poetica ("Art of Poetry") as a coherent and complete work of literature in its own right, and one that occupies a key place in the poet's oeuvre. The poem, which served as the paradigmatic manual for writers, provided a blueprint for efforts at 'updated' rules of composition, and inspired numerous translators and imitators throughout the Middle Ages and Early Modern Period, even into the twenty-first century, has stood for two millennia alongside Aristotle's Poetics as a canonical work of literary theory. Ferriss-Hill, however, argues rather that it should rather be read in the context of Horace's other hexameter writings, and in particular as a companion and counterpart to his Satires. Just as throughout the Satires, his earliest poems, Horace encodes literary prescriptions into his advice on how to live well, so she contends that the Ars Poetica, thought to be his final work, may be read as a manual for how to live that masquerades as a treatise on poetics, the two collections thus forming complementary book-ends to the poet's life and career. Only the second book in English devoted to a study of this important poem, Horace's Art of Poetry and the Art of Living promises to be a significant contribution to the field of Classics and to be of great interest to the wider scholarly community in the Humanities as well
---
Amateur U.K. Archaeologists Stumble on a Roman Masterpiece
---
Former Classics major John Wiltshire (left) and Classics minor Sophia Raia (right), now first yea and second year medical students, respectively, with Prof. John Paul Russo at the Anatomy Rose Ceremony, Miller School of Medicine, 19 Oct. 2017.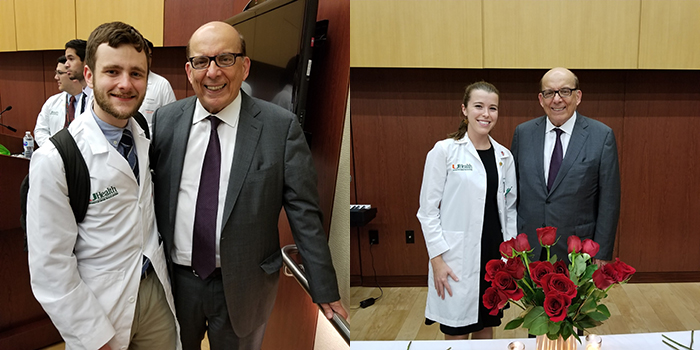 Prof. Russo was the keynote speaker, his topic was the relation of Classics and the other humanities to Medicine.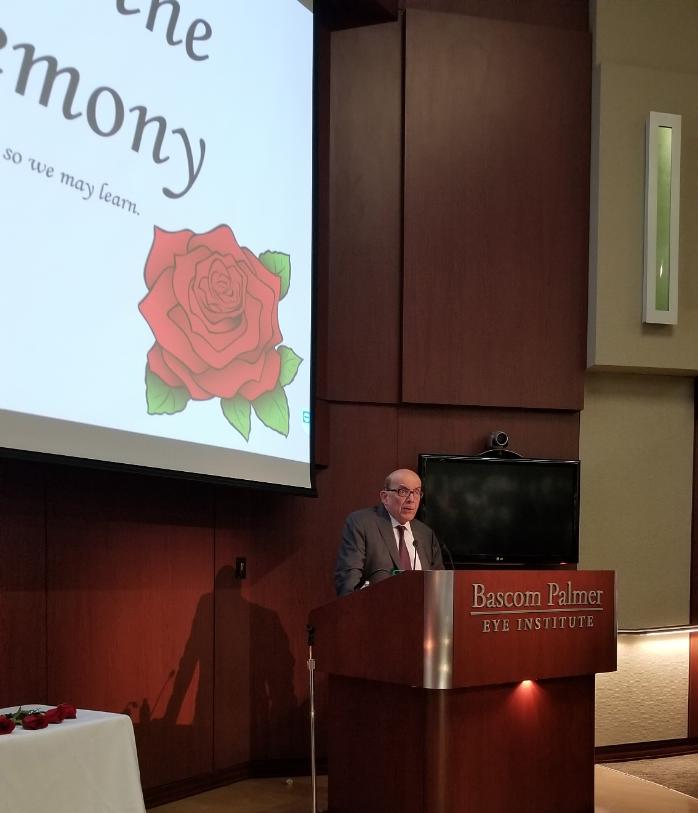 ---
UPCOMING EVENT

Homer and His Legacy, 9-10 November 2017
Western literature has the unusual feature of starting off at the top, at twin peaks, with Homer's two ancient Greek epics, the Iliad and Odyssey, composed sometime in the eighth century BC. Very few writers have equaled his achievement; none have surpassed it. With Homer there is no run-up for a few centuries to reach him, because no other works have survived in Greek to prepare for him. His works seem even higher as a result, like mountains without foothills that rise directly from the plain.
So it is with Homer's legacy. He has had massive influence for over two millennia, and continues to inspire artists, novelists, poets, playwrights, script writers, directors, and composers. His Olympian gods and goddesses, with their carefree pleasures, long ago captured the heart of Hollywood—his gods are the first celebrities who live a billionaire's existence, but with eternal youth thrown in. Homer may be said to have invented that dream of the perfect vacation, the beautiful Mediterranean (or Caribbean or South Seas, or . . . ) island, an earthly paradise. The finest twentieth-century novel in English, James Joyce's Ulysses, grew out of a close reading of the Odyssey. Homer's legacy is like the tail of a comet.
Homer has created two of the greatest mythic characters of world literature: Odysseus (or Ulysses) and Achilles. Odysseus is the successful entrepreneur, the risk-taker, the one who by his brains, cunning, or wisdom, masters "the system." Achilles is the one who questions the system, its validity, its fairness, its honor; he is literature's most famous whistle-blower, the one who says no in thunder. Ironically, Achilles and Odysseus are on the same team in the Trojan War, even friends. But they are such big characters that Homer rightly gave to each his own epic, the Iliad (ca. 16,000 lines) and the Odyssey (ca. 12,000 lines).
The Greeks started employing Homer as a school text early in their history. What better way could be found for setting models of good and evil before the youth of Greece? Over the centuries Homer became the touchstone for the humanistic study of art and literature in colleges and universities; his power of communication breaks through the barriers of space and time. Humanistic study has come to mean a refined perception of what is true and lasting in human life. Periods of history or works of art vastly disparate in their intellectual and cultural circumstance are held in a single balance, grasped not only in their historical difference but in their power to reveal striking resemblances, "universals," the undying constants (or near-constants) in human nature. "The Fates," writes Homer, "have given to mortals a heart that endures" (Iliad XXIV). At its best, such experience allows us to see life in its variety and otherness, its rich digressiveness, its synthesizing wholeness, not excluding a judgment on value. Through this process, do we not appreciate better the enormous gulf that separates one epoch from another, one culture from another, but can we not possibly become aware of the unitary harmonies that underlie them?
John Paul Russo
Department of Classics
Keynote Address
Dr. Richard P. Martin, Antony and Isabelle Raubitschek Professor in Classics, Stanford University, "Homeric Poetry and Local Religion: Cults of Zeus in the Iliad"
Panelists
Associate Prof. Dexter Callender, Jr., University of Miami: "Between the Odyssey and Genesis - Kings on Theoxeny"
Associate Prof. Jennifer Ferriss-Hill, University of Miami: "Good Homer Nods? Confronting Tradition in Horace's Ars Poetica"
Assistant Prof. Margaret Foster, University of Indiana: "Sailing to Sicily: Theoklymenos and Odysseus in Colonial Contexts"
Associate Prof. Jose M. Gonzalez, Duke University: "Homeric Contexts for Hesiodic Poetry?"

Visiting Assistant Prof. Rebecca Katz, University of Miami: "spoliis indute meorum: On the Reuse of Arms and Armor in Homer and Virgil"
Visiting Assistant Prof. Amy Koenig, University of Miami: "Refractions of the Homeric Hymn to Pan in Longus' Daphnis and Chloe"
Assistant Prof. Peter A. O'Connell, University of Georgia: "Homer's Legacy in the Poetry of Gregory of Nazianzus."
Prof. Jonathan Ready, University of Indiana: "Minor Characters in the Iliad"
Senior Lecturer Han Tran, University of Miami: "Homer's Disembodied Siren"
Assistant Professor Robyn Walsh, University of Miami: "Romantic Imagination and Oral Tradition in Christian Literature"
August 2016-May 2017
Faculty
Professor Ferriss-Hill enjoyed a productive sabbatical leave during Spring 2017, which she devoted to continuing work on her second book, Horace's Art of Poetry and the Art of Living. She also wrote two shorter pieces during 2016-17: a contribution entitled "Vivas hinc ducere voces: Hearing Horace's Satires in his Ars Poetica" for the volume, Quasi Labor Intus: Ambiguity in the Latin Language (Essays in Honor of Fr. Reginald Foster, OCD), in press with Brill, and a note, "The Afterlife of Acharnians' Mysian Telephus," for a memorial volume, Albert's Anthology (Loeb Classical Monographs 17), in honor of the late Professor Albert Henrichs. She enjoyed attending the CAMWS conference in Atlanta in October, where she presented a paper on "Fathers and Sons in Horace's Ars Poetica."
John Paul Russo has given a lecture to the Harvard Club of Rome on American travel writing on Italy, with examples from his travel writing (October 2016). The lecture took place at the Palazzo Antici Mattei (James's chilly Palazzo Roccanera in Portrait of a Lady). He reviewed Diane Raptosh's Human Directional in the Winter 2017 issue of Italian Americana, of which he is book review editor. In April 2017 he read a paper on the politics of the late films of Federico Fellini at the American Association for Italian Studies/Canadian Society for Italian Studies, Columbus, Ohio. In May 2017 he was keynote speaker at the Anatomy Rose Ceremony, Miller School of Medicine, on the integration of the Humanities and Medicine; "by Cicero's definition," he said, "Medicine is one of the humanities too."
Han Tran just published a review of Kenneth Lapatin's Luxus: The Sumptuous Arts of Greece and Rome, in the winter issue of Italian Americana. Her book project on the Nereids continues apace; she will present a chapter at a conference focusing on mermaids in folklore in Copenhagen this fall.
---
Hurricane Irma
Prof. Russo spent a few days in upstate New York where he visited the bucolic town of Virgil, which is surrounded by Homer, Ovid, and Seneca--and Dryden (one of Virgil's translator), ending in Ithaca.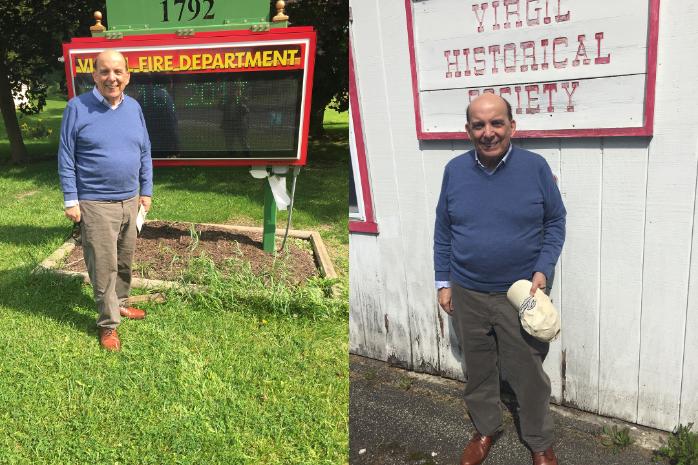 ---
Associate Professor Wilson Shearin comes in 25th in the Maratona di Rimini (Rimini's International Maraton). Here he is crossing the finish line at the Arch of Augustus, the end of Via Flaminia on April 30, 2017. Dr. Shearin's time was 2 hours and 55 minutes marking his pace at 6.40 minutes/mile. 
A friend of Professor Russo's wrote him from Italy about Shearin's performance: "I was told about the Miami Professor who ran in Rimini in last April - me too - I saw his time...very impressive considering it was windy and hot. many congratulations to him!"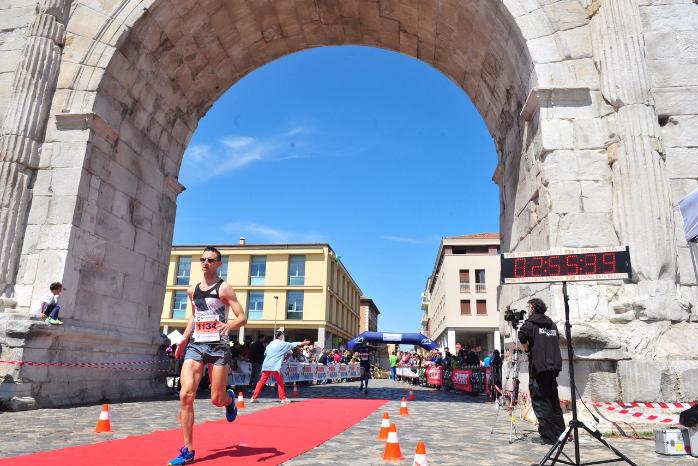 ---
See below for some pictures of the Phi Beta Kappa Initiation Ceremony featuring Classics faculty and students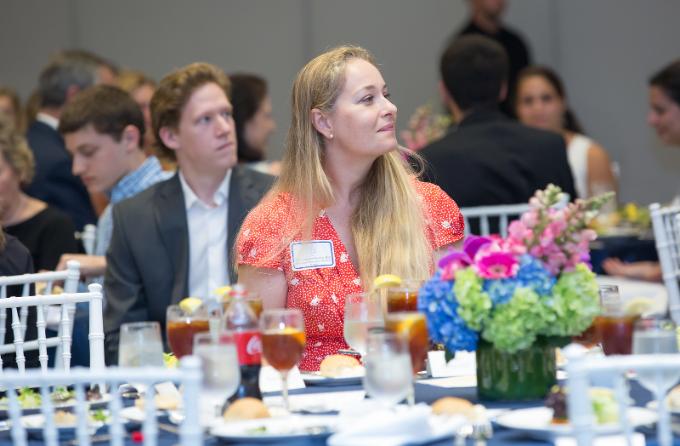 Professor Jennifer Ferriss-Hill, Treasurer for Phi Beta Kappa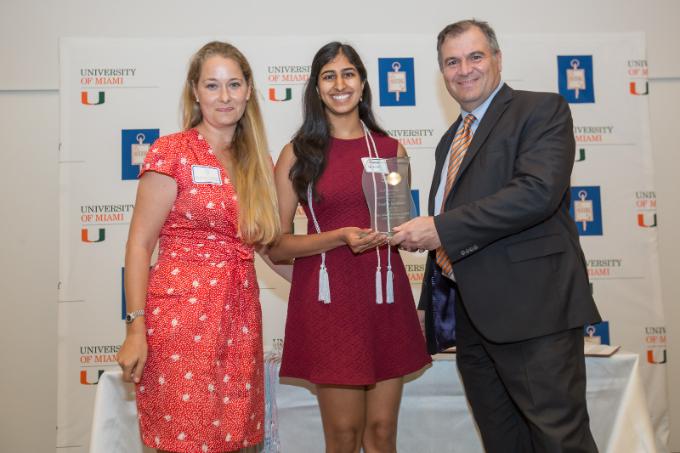 Professor Jennifer Ferriss-Hill and Dean Leonidas Bachas present Swetha Davuluri with the Phi Beta Kappa Award for Excellence in Liberal Learning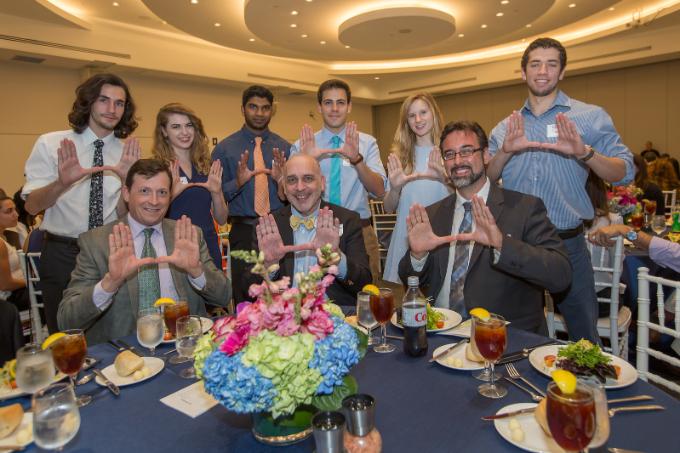 Professor John Kirby surrounded by Phi Beta Kappa inductees and colleagues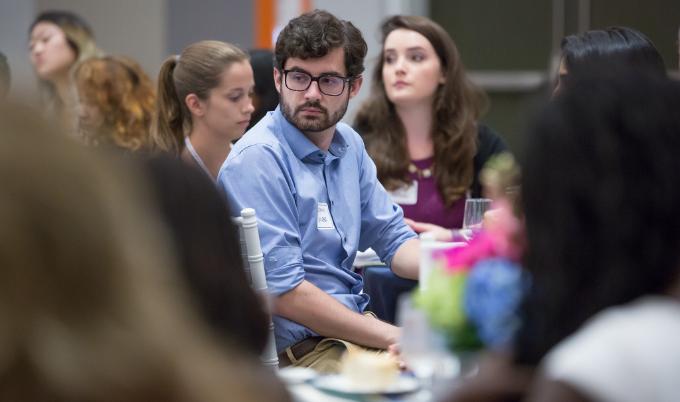 Classics Minor, Benjamin Langer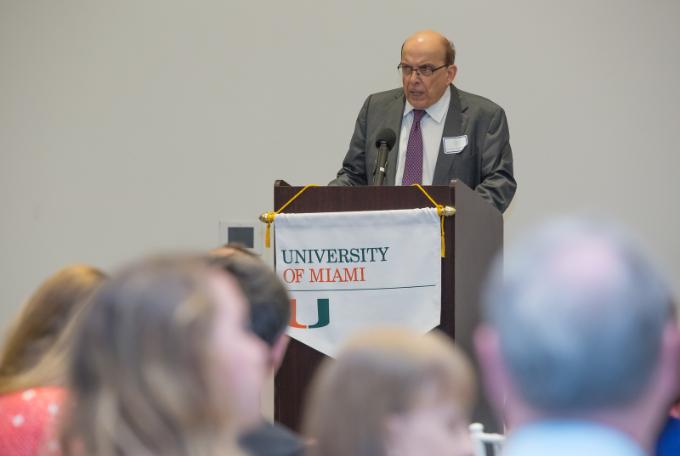 Professor and Chair John Paul Russo introducing Provost Thomas J. LeBlanc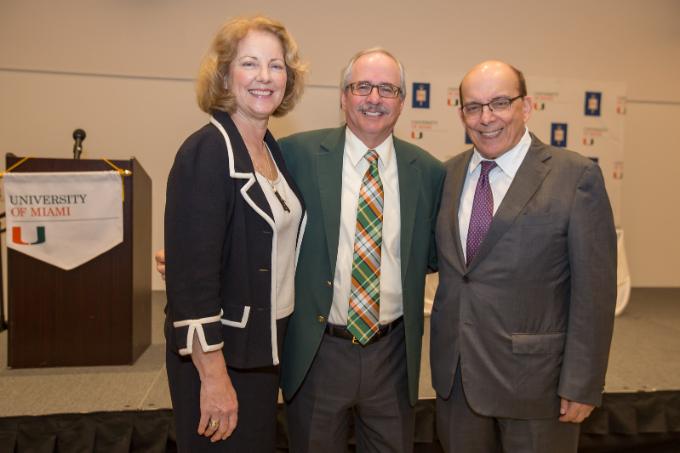 Mrs. Anne LeBlanc, Provost Thomas J. LeBlanc, Professor and Chair John Paul Russo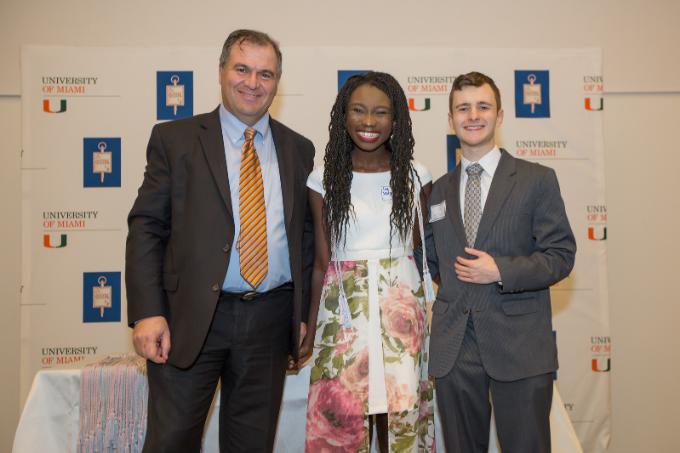 Dean Leonidas Bachas, PBK Initiate Lily Acheampomaa-Piasare, and Phi Beta Kappa Student Vice President John Wiltshire - a Classics major and senior
---
We have heard back from Bijan Omrani who last month delivered a lecture on Caesar in Gaul (see below). He writes some verses in honor of the Classics department: "Some elegicas! They are written Westminster-School style, with three puns..."

Musarum nitidum ludum iam iactat alumnum
Et cultus prisci florida terra tua.
Munificos propter lucos aequorque renidens
Discipulis vates mitibus usque canes.
(Miami, Florida, Canes)
Ancient learning and the kindly Nine now boast
A shining home upon your flowering coast.
By smiling waters, you shall ever sing
To eager students the Pierian Spring.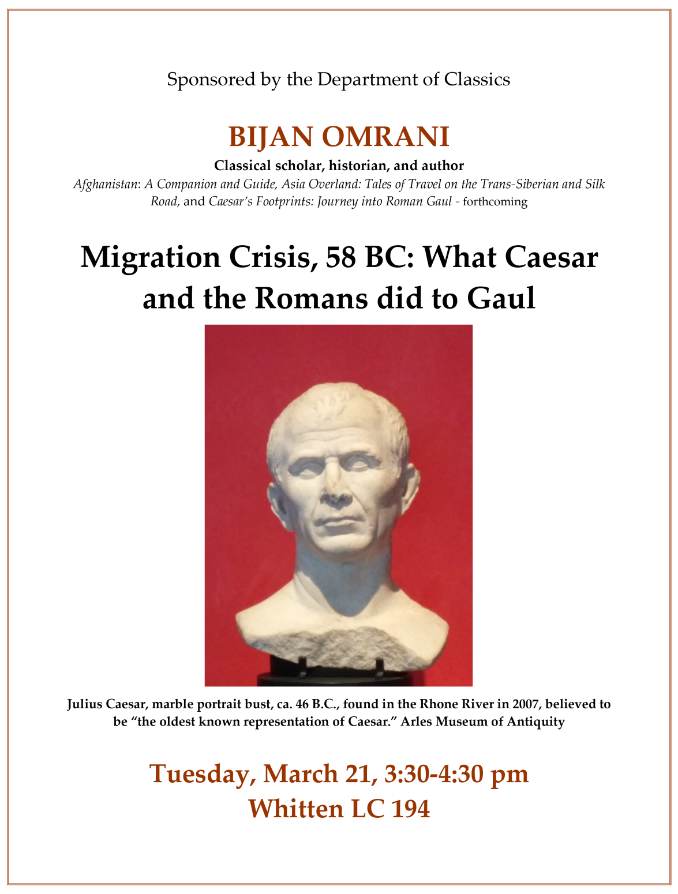 ---
Jennifer Ferriss-Hill received a Provost Research Award to devote Summer 2017 to work on her second book. The project, tentatively entitled "Horace's 'Ars Poetica' and the Art of Living," is a study of Horace's "Art of Poetry" and argues that the ostensibly literary advice imparted in this important poem extends not only to all the creative arts, but even to living itself.
---
At the Southern Section meeting of CAMWS (The Classical Association of the Middle-West and South) in October 2016 Dr. Jennifer Ferriss-Hill gave a paper entitled "Fathers and Sons in Horace's 'Ars Poetica'" and presided over the panel on Greek Comedy
---
We congratulate Dr. Jennifer Ferriss-Hill for receiving a Provost Research Award allowed her to dedicate Summer 2016 to working on the manuscript of her second book, "Horace's 'Ars Poetica' and the Art of Living"
---
We are pleased to announce that Dr. Wilson Shearin has been promoted to Associate Professor of Classics with tenure, beginning 1 June 2016. Last month he ran the Boston Marathon.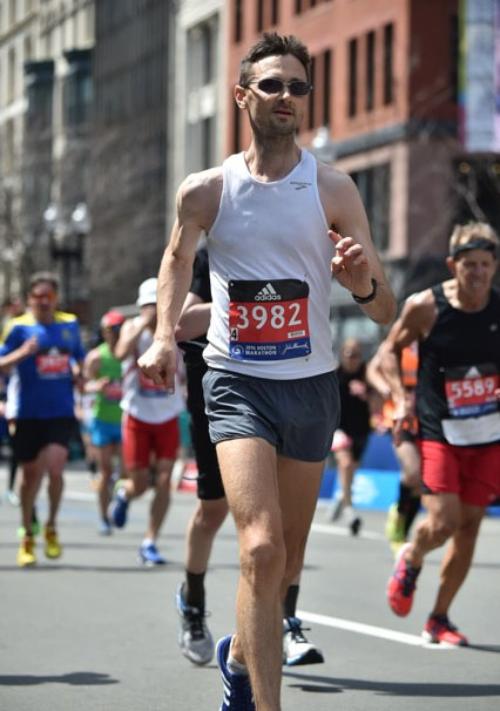 ---
Dr. Han Tran has been promoted Senior Lecturer beginning 1 June 2016. Dr. Tran is also a marathon runner, and qualified this year for the Boston Marathon, but was unable to participate owing to classes.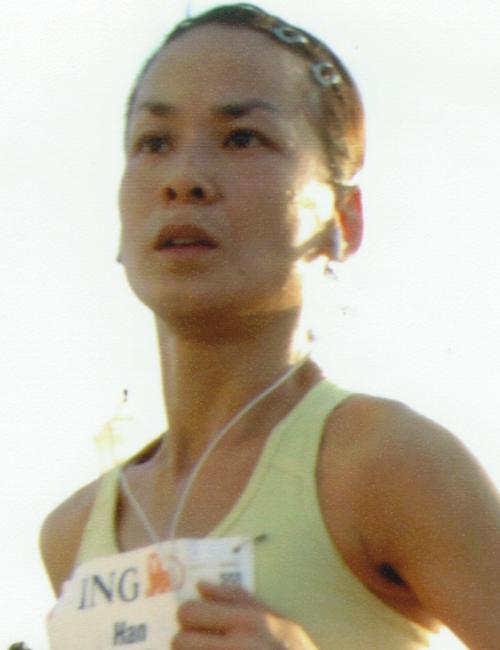 ---
We congratulate Mazieyar Azad on his graduation with a Classics Bachelor's!

Pictured left to right: Mahshid Azad (Mother), Mazieyar Azad, John Paul Russo (Chair), Manijeh Moassessi (Aunt), and Farzib "Jack" Azad (Father)
---
Congratulations to the new students inducted into Eta Sigma Phi, the Honorary Society for Classics!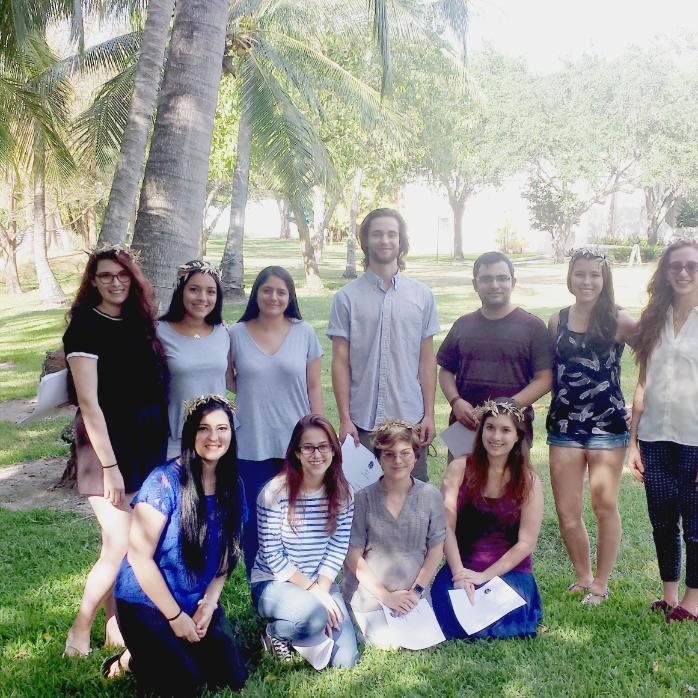 ---
We congratulate two of our Classics majors, Tyler Pedersen and Dima Jaraki, on their induction to Phi Beta Kappa!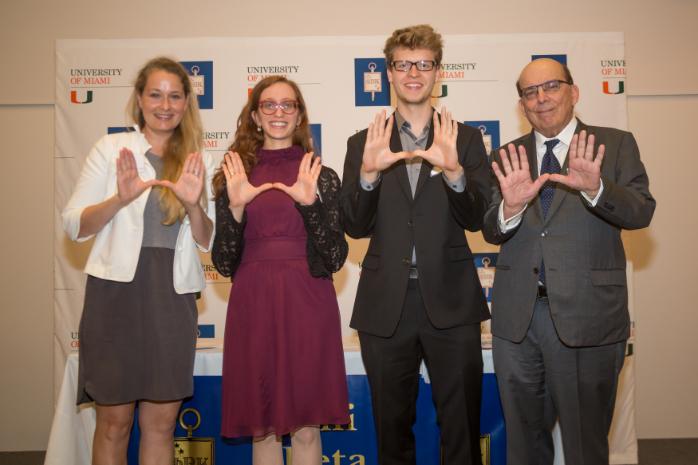 Left to right: Dr. Jennifer Ferriss-Hill, Dima Jaraki, Tyler Pedersen, and Dr. John Paul Russo (Chair)
---
Assoc. Professor Jennifer Ferriss-Hill's first book, Roman Satire and the Old Comic Tradition, was published with Cambridge University Press in 2015 and received the CAMWS First Book Award (2016) (Classical Association of the Middle West and South).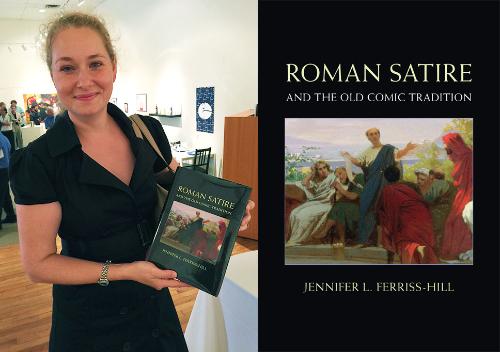 ---
We congratulate Dr. Aaron Kachuck, who has been awarded a four-year Junior Research Fellowship at Trinity College, Cambridge! [Jan 2016]
---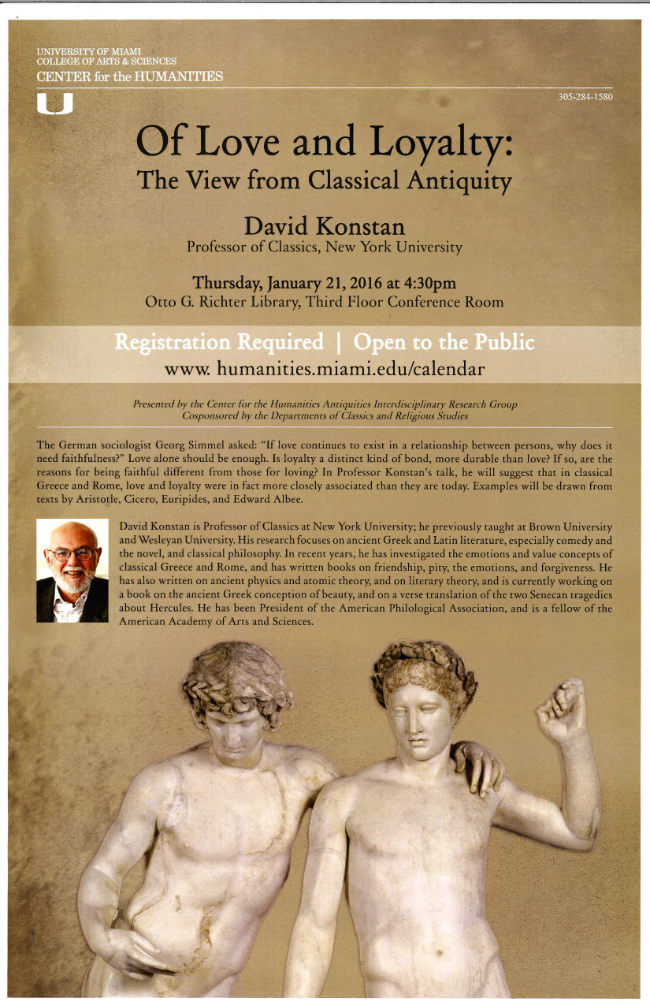 ‌
---
Congratulations to Jennifer Ferriss-Hill on her promotion to Associate Professor of Classics with tenure! [April 2015]
---
Professor Jennifer Ferriss-Hill has published her first book, Roman Satire and the Old Comic Tradition, with Cambridge University Press. [February 2015]
---
Professor John Paul Russo of the University of Miami discusses the challenges facing the Humanities today. John Paul revisits this key issue, the subject of his book The Future without a Past: The Humanities in a Technological Society (University of Missouri, 2005), winner of the Thomas N. Bonner Award for 2006.
What role can the Classics play in this struggle?
Join the debate by watching our interview‌  
from "Classics Confidential"
---
Medicine and Poetry: From the Greeks to the Enlightenment 
University of Miami – Friday, March 20th, 2015 
CAS Gallery 
Brooke Holmes 
"Oedipus' Errors: Tragedy and Medicine, Care and Blame in Ancient Greece", 
Princeton University: Keynote Address at 4:30 pm 
From Homer's depiction of wounds and Lucretius on plague and death to Erasmus Darwin's rhymed verse portrayals of plants and zoology and beyond, poetic texts have reflected, disseminated, and actively engaged with contemporary ideas about medicine and the body. While scholarly work on poetry or the history and philosophy of science has long proceeded in parallel, the conjunction of the two remains understudied. With the recent surge of interest in medical Humanities and sub-topics such as narrative medicine and the verbal (in)articulation of bodily pain, the time is right to propose a conference investigating how medical knowledge is expressed, often by non-specialists, in poetry.
• Jacqueline Arthur-Montagne, Stanford University: "Symptoms of Sublimity: Diagnostic Theory Between Hippocrates and Longinus"
• Daniel Bertoni, University of Miami: "Healing Plants in Science and Poetry"
• Erika Gielen, University of Leuven – Belgium: "'… and she eats a poppy': Reconstructing the Poetical Medical Etymologies of Soranus Through Meletius"
• Michael Goyette, The Graduate Center of The City University of New York: "Language of Mental Illness in Seneca's Tragedies and Celsus"
 • T. George Hendren, University of Miami: "Poetry as Panacea: Medicine and Poetry in Ovid's Exilic Epistles"
 • Ippokratis Kantzios, University of South Florida: "Bodily Pathology and Unhealthy Politics in Alcaeus"
• Julia Nelson Hawkins, The Ohio State University: "Satirical Anatomy: Horace and the Sick Poet"
• Nathalie Rousseau, University of Paris-Sorbonne: "'Δηλοῖ δὲ τοῦτο καὶ ὁ ποιητὴς εἰπών': poetry supporting medical lexicography in Galen of Pergamum"
• Calloway Brewster Scott, New York University: "Polis Sans Medecins: Health and Wealth in Aristophanes' Ploutos"
• Wilson Shearin, University of Miami: "Venereal Disease? Aetiology and Teleology in Girolamo Fracastoro's Syphilis"    
• Noga Weiss, University of Haifa: "On the Homeric Origins of Melancholy"    
•  Kathryn Wilson, University of Pennsylvania: "Symptoms and Stars: Aratus as Nicander's Poetic and Semiotic Model"                                                                                                                                       
Medicine and Poetry: From the Greeks to the Enlightenment
Friday, March 20th, 2015
CAS Gallery, University of Miami
9:00
Welcome
-Dr. John Paul Russo, Professor and Chair, Dept. of Classics
-Dr. William Scott Green, Sr. Vice Provost, Dean of Undergraduate Education, Professor of Religious Studies
-Dr. Maria Galli Stampino, Sr. Associate Dean, College of Arts and Sciences, Professor of French and Italian
Panel 1: Sickness and the City:
9:15-10:45
Chair: John Kirby, Department of Classics
-Ippokratis Kantzios, University of South Florida: "Bodily Pathology and Unhealthy Politics in Alcaeus"
-Calloway Brewster Scott, New York University: "Polis Sans Médecins: Health and Wealth in Aristophanes' Ploutos"
-Julia Nelson Hawkins, The Ohio State University: "Satirical Anatomy: Horace and the Sick Poet"
-T. George Hendren, University of Miami: "Poetry as Panacea: Medicine and Poetry in Ovid's Exilic Epistles"
 Coffee break
 Panel 2: Disease and Healing
11:15-12:30
Chair: John Paul Russo, Departments of Classics and English
-Noga Weiss, University of Haifa: "On the Homeric Origins of Melancholy"
-Daniel Bertoni, University of Miami: "Healing Plants in Science and Poetry"
-Nathalie Rousseau, University of Paris-Sorbonne: "'Δηλοῖ δὲ τοῦτο καὶ ὁ ποιητὴς εἰπών': poetry supporting medical lexicography in Galen of Pergamum"
 Lunch break
 Panel 3: Receptions
2:00-3:45
Chair: Mary Lindemann, Department of History
-Jacqueline Arthur-Montagne, Stanford University: "Symptoms of Sublimity: Diagnostic Theory Between Hippocrates and Longinus"
-Kathryn Wilson, University of Pennsylvania: "Symptoms and Stars: Aratus as Nicander's Poetic and Semiotic Model"
-Michael Goyette, The Graduate Center of The City University of New York: "Language of Mental Illness in Seneca's Tragedies and Celsus"
-Wilson Shearin, University of Miami: "Venereal Disease? Aetiology and Teleology in Girolamo Fracastoro's Syphilis"
 Coffee break
 4:30-5:30
-Dr. Andreas Tzakis, M.D., Ph.D., Dr. Andreas G. Tzakis, Transplant Surgeon, Cleveland Clinic 
-Dr. Jennifer Ferriss-Hill, Assistant Professor, Department of Classics
Keynote address:
-Dr. Brooke Holmes, Professor of Classics, Princeton University: "Oedipus' Errors: Tragedy and Medicine, Care and Blame in Ancient Greece"
Reception